An old Ad, for our New Website!
15.10.2014 |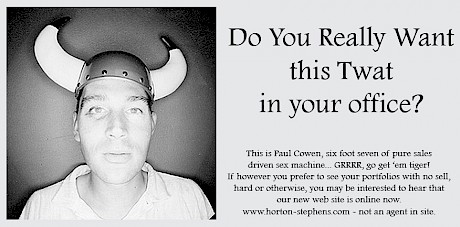 Here it is... our brand new website!
Many years ago we recognised a changing emphasis from showing physical portfolios towards viewing them online.
The ad we ran 15 years ago to acknowledge this still tickles us, featuring, as it does, our Paul in Viking regalia. We were one of the first agencies online and in the many generations of site evolution we've been through, we've always striven to provide the easiest and most convinient experience possible. So now we've just launched our latest version... enhanced navigation, new galleries, custom galleries, new work, even new news... and it runs even faster!
What's more, the site has already won 'site of the week' on a well respected web design forum. In their words, the site...
'boasts a clean and distraction-free design. Apart from that, it's also a real treat for JavaScript and AJAX fans. The way content is loaded asynchronously as you browse the site, and a menu that gives "dynamic" a whole new meaning, give this site rather unique vibe, to say the least.
Another interesting feature is the custom gallery tool, which allows you to pick and choose your favourite photographs and display them on the "My Custom Gallery" page. There's also an option for requesting any of the galleries on the site (including your custom gallery) as a PDF.
If you're a fan of awesome photography – or just interesting design – this site is well worth visiting!'
There you have it!
If you're reading this, you're already here. Have a poke around, we'd love to know your thoughts.
Back to Latest News