Lockdown Q&A - Nick Dolding
Read the latest Lockdown Q&A with Nick Dolding.
Who is your favourite photographer, historical or contemporary or both and why?
Jacques Henri Lartigue. Self taught with stacks of style, skill, everything really. Or maybe Irvin Penn
Why did you take up photography as a career initially and how did you get your first break into the business?
I always wanted to do something creative, I loved art, was keen on taking pics and when I found out there was an industry that allowed you to take pictures, have fun, party, and get paid there was no going back. 
If you had to have one, what would be your favourite photograph that you have taken and why? Personal or commercial is fine.
I used to think I remembered every picture that I'd taken but now I'm not so sure. For me the picture is just part of the story, it might tell a 1000 words but never the whole story. So for me the best pictures are the ones that you could fill a chapter with. Initially I saw this old man in a bar in the mountains in Northern Italy, I asked his friend if he'd be okay with me taking his picture and I was politely told no. Gutted I had my beer outside only for his friend to reaper and say that I could take his picture if I was quick.
I got 3 frames, one had movement, but one had just the perfect amount of movement on the hand, combined with the smoke, the light, everything worked. Shot on film then so you were never really sure!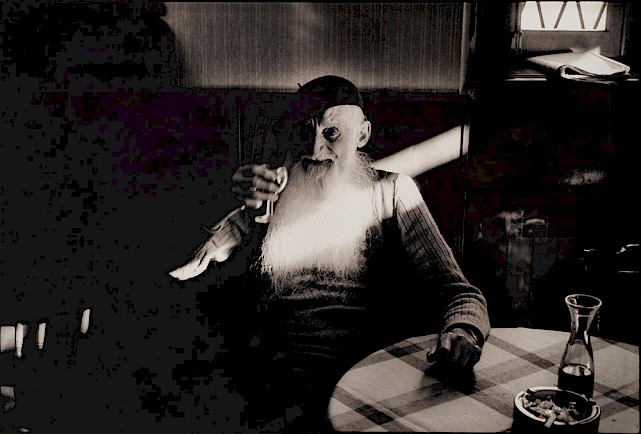 If you still enjoy it (and we presume you still do), why do you like being a photographer?
It can be like a mini adventure. Whether it's a job or personal stuff, you get lost in it, totally absorbed.
 
If you were going to work in a field of photography other than your own, what would it be?
I'd like to think I could do documentary pics. Real photography!
 
If you hadn't become a photographer what do you think you might be doing instead?
Getting bored behind a desk, nah anything other than that, tree surgeon maybe!
See Nick's portfolio galery here. 
Back to Latest News