Lockdown Q&A - Jack Terry
Here's the latest Q&A with Jack Terry.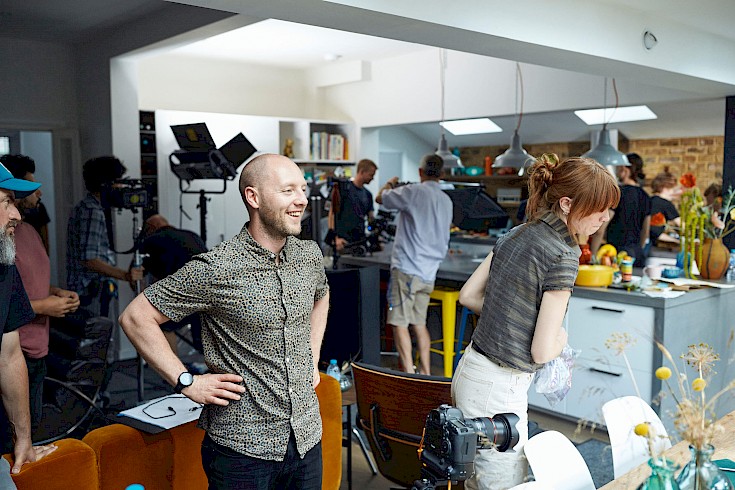 Who is your favourite photographer, historical or contemporary or both and why?
I have always admired Tom Woods work. I don't think you can get much better for observational street photography.
Wood worked on a series from the woman's market in Liverpool every weekend in the 80s-90s, which is a great inspiration and an example of real dedication to a passion.
A current street photographer that I think is brilliant is Daniel Arnold. His work has the comedy of Martin Parr's but in a slightly less garish style.
I get drawn to street photographers for their study of the fleeting moment. The pressure of capturing a scene that you know will never happen again is something I find exciting.
Why did you take up photography as a career initially, and how did you get your first break into the business?
I studied product design at University and guess I have quite a technical mind. After working in design for a few years, I realised I couldn't spend my career sitting behind a desk. The kind of work I shoot now means I am always going somewhere exciting and meeting new people, which I love.
Rather than a single big break, I guess like mine, most people's careers develop by slowly chipping away at your goals and being persistent. I started off taking photos of people on the ski slopes in France then moved to London and worked part-time as a designer, giving me two days a week to develop the photography business. At that stage, I would photograph anything I got offered. I shot a lot of live sport as I slowly discovered what I enjoyed shooting the most and worked out how to pursue it. One of my first significant advertising jobs was commissioned off the back of a personal project, leading to a year of work with a holiday company.
If you had to have one, what would be your favourite photograph that you have taken, and why? 
I would choose this shot of my daughter Esther. I took the photo just after we moved into our current house and I love the way the lines of light draw you into her face. You can't beat the side profile of a toddler for cuteness.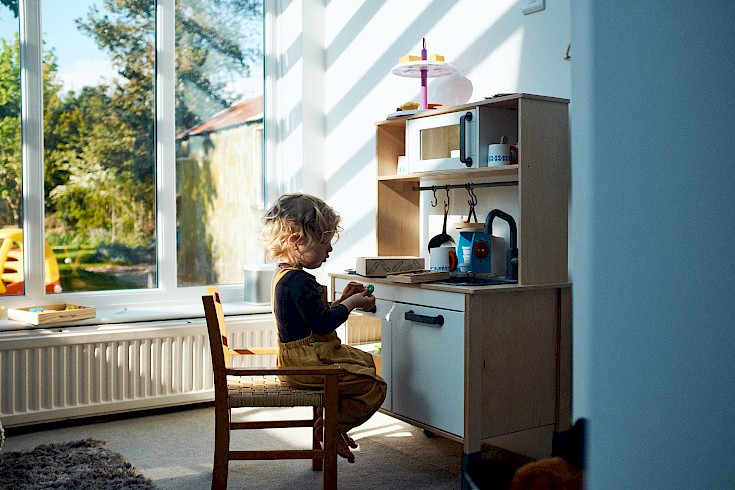 I always leave one camera upstairs and one downstairs because with kids, you never know when they are going to do something that would make a nice image. This image is now part of a series called 'Esther' on my website, which documents her growing up. We have got a little boy now too, so keep your eyes peeled for 'Xavier' on the site over the next few years.
Why do you like being a photographer?
There are so many things I love about working as a photographer, and I think it is a real privilege. I always get asked who would your dream client be, and I can never give a solid answer. I think this is because what I enjoy most is the process. The final result always gives a feeling of pride, but what gets me out of bed in the morning is the teams, locations, travel, challenges and everything else that happens along the way. All of that makes the exact client fairly unimportant. Working with global brands does give a sense of accomplishment, but some of the most enjoyable commissions I have shot so far have been for smaller companies and startups.
 
If you were going to work in a field of photography other than your own, what would it be?
When I started as a photographer, I liked the idea of shooting cars and shot a few jobs for car brands without featuring people. I enjoy the technical challenge of still life, but I think I would miss the interaction with talent and cast too much. Something we have been working on recently is still life on location, taking my natural approach and focusing on the products in a scene rather than the people. An exciting commission I just finished for Google pairs lifestyle images with a detailed product shot which will show on billboards beside each other, so it looks like still life is something I will get the chance to experiment with further. 
If you hadn't become a photographer, what do you think you might be doing instead?
In reality, I would still be a designer. The creative challenge is something I will always find motivating, and it would make the student loan a bit more worthwhile.
For something entirely different, I have always fancied being a carpenter. I love making things with wood and spend a lot of time working on my house. Working with lots of different people, drinking tea and finishing at four is always an appealing option.
Back to Latest News