Lockdown Q&A - Ilka & Franz
With the World in lockdown, we thought this would be the perfect opportunity to learn a bit more about our photographers. Introducing... Lockdown Q&As! First up... Ilka & Franz telling us a bit about their favourite shots and lots more!
Who is your favourite photographer, historical or contemporary or both and why?
Franz: Pictures of the work of Erwin Wurm, although he technically isn't a photographer, inspired me when I first came across them years & years ago.
Ilka: There are so many that I like looking at: Guy Bourdin, Pierre et Gilles, Miles Aldridge..  and also lots of young, current photographers.  Do directors count too? David Lynch, Wes Anderson,... 
Why did you take up photography as a career initially and how did you get your first break into the business?
Franz: While studying something unrelated in Graz, which is a city in Austria, I had the chance to do some assisting work for a local photographer which was very exciting for me as I always had a keen interest in the arts & photography. Through that bit of work experience I decided that I wanted to learn more about the vast industry and moved to London where I met Ilka who had similar ambitions.. then we formed a rock band called The White Stripes.
Ilka: I grew up in a small town in Germany. In the early 00s when it was time to choose a career, a photographer in my world was a guy in a shop on the high street who did cheesy family portraits. I looked into it but decided to do languages at uni instead. Years later and after moving to London, I learnt that actually there are a hundred ways to be a photographer and then Franz and I thought we could try to become two half photographers together. Our career break was probably shooting 300 rings on white background. (Joke!!) 
If you had to have one, what would be your favourite photograph that you have taken and why?
Ilka: I tend to like our newest work best. Now we are really into more elaborate set design and textures, so my current favs are the TV Dinner shot (it's not actually that new..) and the Trippy Toothpaste shot (pretty new). 
Franz: As we put a lot of love into our photographs it is really hard to answer but I think the Fish Finger shot that is part of our Misunderstood Food series is my favourite at the moment.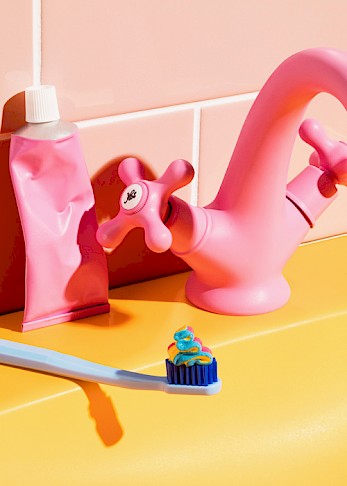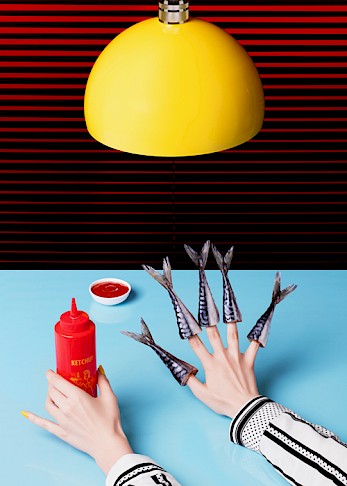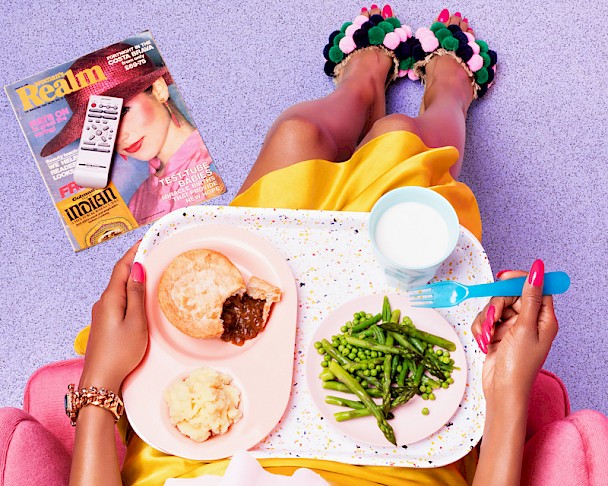 If you still enjoy it (and we presume you still do), why do you like being a photographer?
Ilka: I like that it is always new and there is always more to learn. If you get bored, you can find new things to try and get better at. We're more interested in film now, which has opened up a huge field to learn about. I also like that it's so varied - some days are spent alone retouching or building something, other days we work with lots of other people with all the added input and inspiration that brings. 
Franz: The fact that most of our projects and assignments are based on a collaborative nature but still giving space for unique, individual interpretations and involving other amazing people in the creative industry doesn't stop to excite me. I also really enjoy the direction our industry is heading, widening our field of work and bringing us more challenging but interesting briefs.
If you were going to work in a field of photography other than your own, what would it be?
Ilka: A field where I don't have Franz breathing down my neck...?  (Another joke!!) Mhh... Not sure.. I like the studio because I like creating worlds that don't exist..  Set design would be cool. Does that count? 
Franz: Maybe something that is less studio based could be nice, more travelling I wouldn't be opposed, ha! :) To be frank though, I really like what we are doing and as we are still growing and are constantly working on evolving our style, it already feels as if we are working in a field that is different to where we started.
If you hadn't become a photographer what do you think you might be doing instead?
Franz: Haunting people in their dreams would have been my second career choice.
Ilka: An Olympian! A singer! Prima Ballerina! Or a surgeon. These are all my alternative dream jobs but, realistically, I'd probably just work in an office doing marketing (yawn!)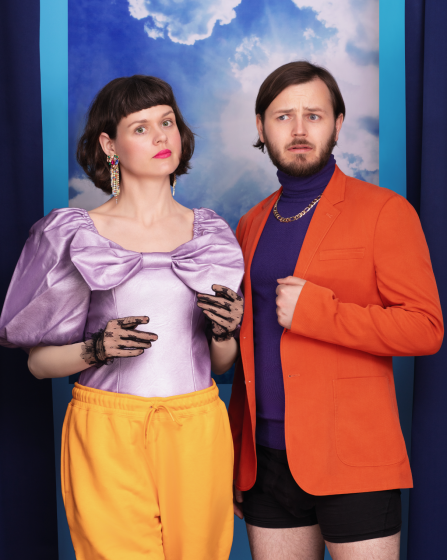 Back to Latest News